East Africa's leading telco, Safaricom, made $806, 729 in its first month of operations in Ethiopia despite making a loss of $11.4 million in the HY22/23 results.
According to the company's half-year results, Safaricom Ethiopia service revenue for the period ended September 30th, 2022, was $74,682, while total revenue, including handset sales.
Safaricom Ethiopia expects penetration to get to 25 cities by end of March 2023 when they also project to be covering 25% of the Ethiopian population. CEO, Anwar Soussa, added that, at the moment, they have 903,000 customers and expect to hit 1 million within one week.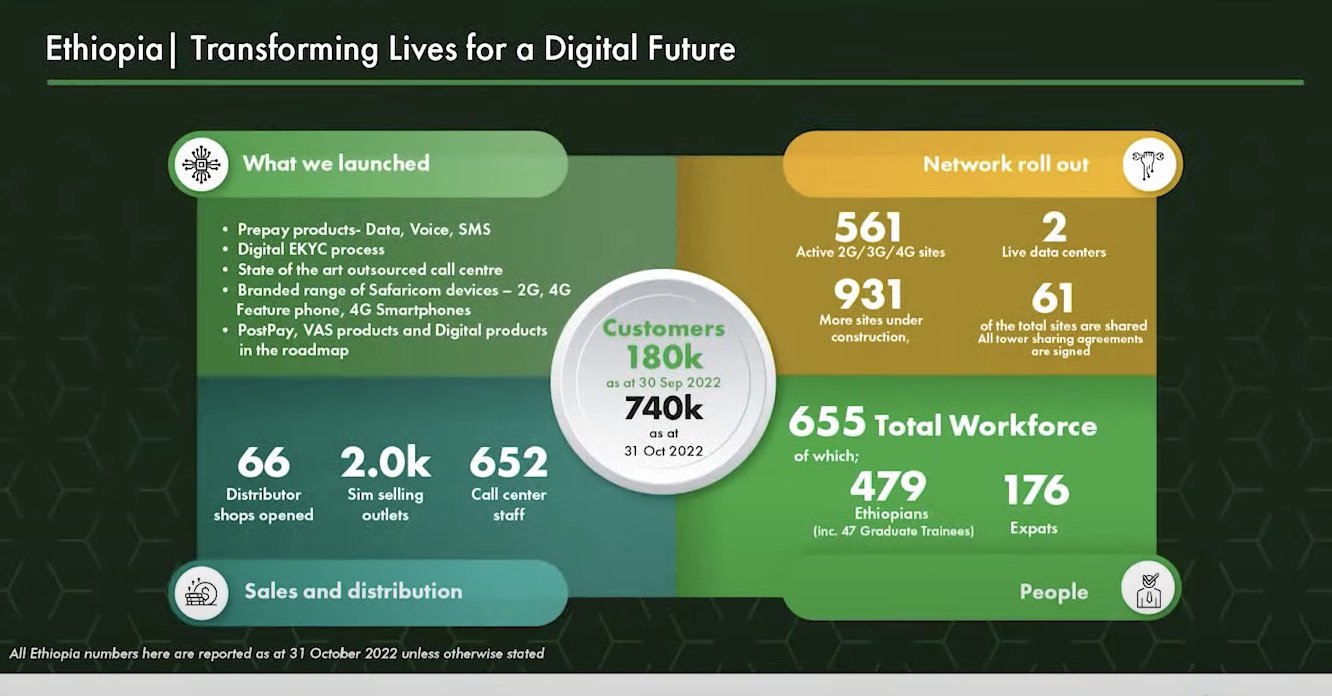 Safaricom CEO, Peter Ndegwa, said the Ethiopian subsidiary amassed over 740,000 customers (based on the results) and 20,000 new customers are joining the network on a daily basis.
Users on the network are already spending 711 MBs average usage per active data customer and 30 minutes of use per active voice customer in October 2022.
"We believe the Ethiopian business would grow to the size Safaricom is today, in half the time (12 years). We should see significant topline growth from next year," Ndegwa said.
The company is also yet to receive a license to operate mobile money services as they wait for parliamentary approval.
However, Safaricom remains confident in the government's cooperation. At the launch ceremony in October 2022, the Ethiopian government announced it was giving Safaricom a license to run mobile money in the populous nation.
According to Ndegwa, having invested over $598 million in Ethiopia, users are returning feedback about the quality of their data experience.  The company is seeking more financial avenues including equity and debt arrangements to drive further investment.
To this end, Chief Financial Officer, Dilip Pal, revealed they are in negotiations with the International Finance Cooperation (IFC), and may also turn to commercial banks for financing but would remain majority shareholders in the consortium that owns Safaricom Ethiopia.
Ndegwa expressed satisfaction at Safaricom Ethiopia's contribution to the overall revenue of the Kenyan company.
Overall revenue from voice service declined by 3.8% to KES 39.88 billion ($327 million) while mobile data revenue grew by 11.3% to KES 26.30 billion ($215 million). M-PESA revenue grew by 8.7% to KES 56.86 billion($466 million).
___________________________________________________________
Follow us on Twitter for latest posts and updates
Join and interact with our Telegram community
___________________________________________________________
___________________________________________________________