Uniswap has introduced an NFT aggregator platform promising users the opportunity to trade NFTs across major marketplaces and find more listings and better prices.
As an aggregator, Uniswap surfaces listings from all major NFT marketplaces, including:
OpenSea
X2Y2
Sudoswap
LooksRare
Larva Labs
Foundation
NFT20, and
NFTX
The platform has 35% more listings (496K) than the leading NFT marketplace (365K), Uniswap said.
— Uniswap Labs 🦄 (@Uniswap) November 30, 2022
Uniswap also said users can save 15% in gas fees compared to other aggregators, thanks to Uniswap's Universal Router smart contract, which unifies ERC20 and NFT swapping into a single swap router.
This is highlighted in a slide shared by Uniswap: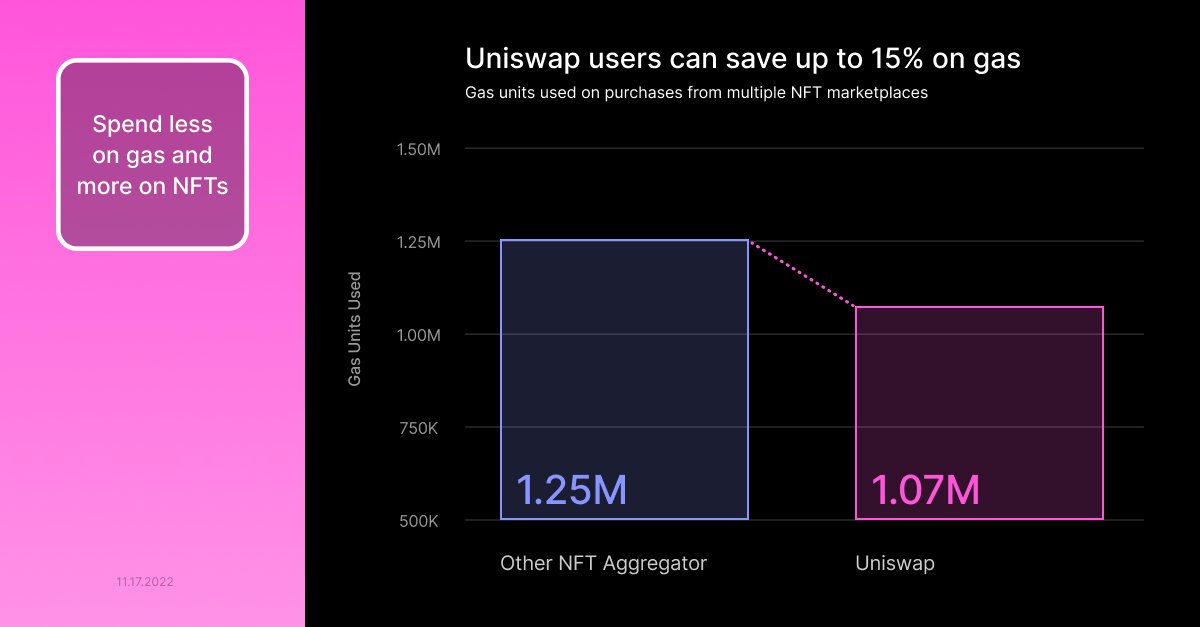 To accompany the platform launch, Uniswap is offering gas rebates to the first 22,000 NFT buyers and airdropping approximately $5 million USDC to historical Genie users.
Genie was a NFT marketplace aggregator that Uniswap acquired in June 2022 as it sought to create its own aggregator. Uniswap wants to integrate NFTs into its web app letting people buy and sell NFTs there.
It also plans to integrate NFTs into its developer APIs and widgets so that it becomes a comprehensive platform for users and builders in Web3.
"The goal isn't to create another NFT marketplace. The marketplaces have many other important functions. They have a lot of creator tools that help creators mint NFTs, and we're not competing with that.
We believe that NFTs are in the very early stages of their development. A non-fungible item can be used for lots of different things—well beyond what they're being used for today."
– Mary-Catherine "MC" Lader, COO of Uniswap Labs
Launched in November 2018, Uniswap was one of the first decentralized finance (DeFi) applications to emerge on Ethereum. The startup pioneered the Automated Market Maker (AMM) model for decentralized exchanges.
In the midst of a tough period in the crypto industry, Uniswap raised $165 million in Series B funding in October 2022, a deal which valued the company at $1.6 billion. Following the raise, founder, Hayden Adams, said the company planned to to launch NFTs and move into mobile.
____________________________________
Follow us on Twitter for the latest posts and updates
Join and interact with our Telegram community
____________________________________
____________________________________