According to the official Statistical Services of Ghana, The year-on-year country inflation rate stood at 33.9% in August 2022, the highest level of inflation since 2001.
This means that in the month of August 2022, the general price level was 33.9% higher than in August 2021.
Ghana🇬🇭 inflation at 33.9% in August 2022 is the highest since 2001! pic.twitter.com/iRCYldaqqn

— BitKE (@BitcoinKE) September 27, 2022
Month-on-month inflation between July 2022 and August 2022 was 1.9%, the lowest increase in all of 2022.
Food prices represent the largest subset contributing to inflation recorded at 34.4% in August 2022, up from 32.3% in July 2022. According to the statistics body, month-over-month food inflation rose by 1.8%.
Government Statistician, Samuel Kobina Annim, revealed that bread and smoked herrings recorded the highest increases in purchase prices as the cost of living continues to rise in the West African nation:
Bread (+64.8%)
Smoked Herrings (+56.2%)
Rent Payments (55.0%)
Bus and Totoro Fares (43.7%)
Cooked rice (29.7%)
Over the last 12 months, food prices have increased on average by 21.3%, with fats and oils in particular, rising by 74% since 2021.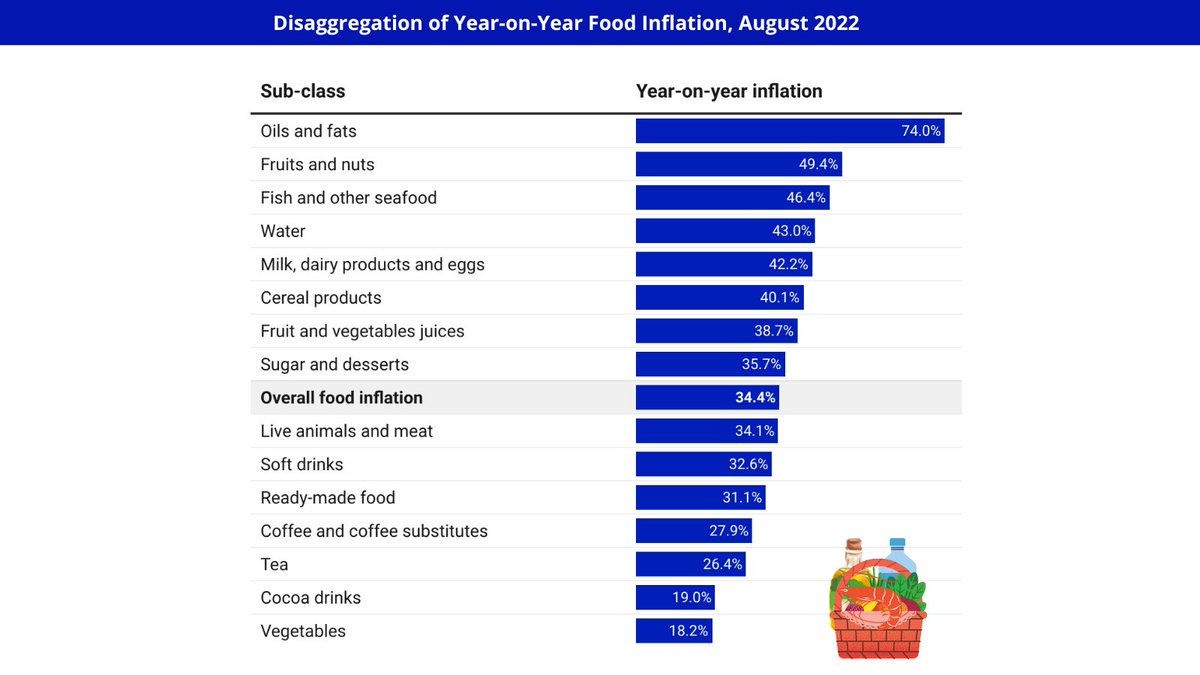 Non-food Inflation (0.563) was 33.6% in August, up from 31.3 % in July 2022, and recorded an increase of 2.0% month over month.
The average for non-food inflation is 19.3% in the last 12 months.  Inflation for locally-produced items was 33.4% while inflation for imported items stood at 35.2%.
The Statistics Office has also estimated that:
Ghana's economy grew by 1.1% in the second quarter of 2022 following a decline of 0.9$ in the previous quarter
The services sector is estimated to contribute 45.8% to the GDP, down 4.2% since Q1 2022
The industry sector increased by 3.1% to contribute 32.1%
Agriculture returned 22.1% GDP in Q2 2022, up 1.1% from the previous quarter
speaking to reporters in Ghana, Kobina said:
We need to be careful when we are only looking at just the negative side of what potentially might happen to our economy going forward with all the increases and the global economy. Inasmuch as all those challenges are confronting us, we should also look at some positives that are happening in terms of government interventions. – The Government Statistician
The country remains in talks with the International Monetary Fund (IMF) for an economic bailout of $3 billion.
________________________________________
Follow us on Twitter for the latest posts and updates
Join and interact with our Telegram community
________________________________________