The number of subscribers using Ethio Telecom's network, the leading telecom company in Ethiopia, reached 70 million by the end of December 2022, the company said.
This was a gain of 9.2 million new customers since the beginning of July 2022 when its current financial year 2022/2023 started.
As the result of its 3 years LEAD growth strategy implementation in the 1ˢᵗ half of the fiscal year, our company has shown a remarkable performance and acquired 70M subscribers achieving 98.6% of its target and generated a total of 33.8B ETB in revenue which is 96% of the target pic.twitter.com/026hyYV1OI

— Ethio telecom (@ethiotelecom) January 12, 2023
According to Ethio Telecom:
Mobile voice subscribers reached 67.7 Million
Data and Internet users hit 31.3 Million
Fixed Services rose to 862.2K
Fixed Broadband subscribers reached 566.2K
When it comes to revenue, the company generated a total of 33.8 billion ETB ($627.64 million) in the last six months. This figure is broken down to show the share contributed by the telco's different segments:
Mobile voice accounts for 47.4%
Data and Internet contributes 28%
International business shares 8.4%
Value Added Service accounts for 6.5%
Infrastructure share 2.2%
Other unnamed sources contributed 7.5%
The company also generated 64.8 Million USD in foreign currency from international business.
Ethio Telcom's results follow Safaricom Ethiopia's which were announced in November 2022. The new Ethiopian entrant said it was expecting to hit its first million customers that month, after turning in $806,729 in revenue.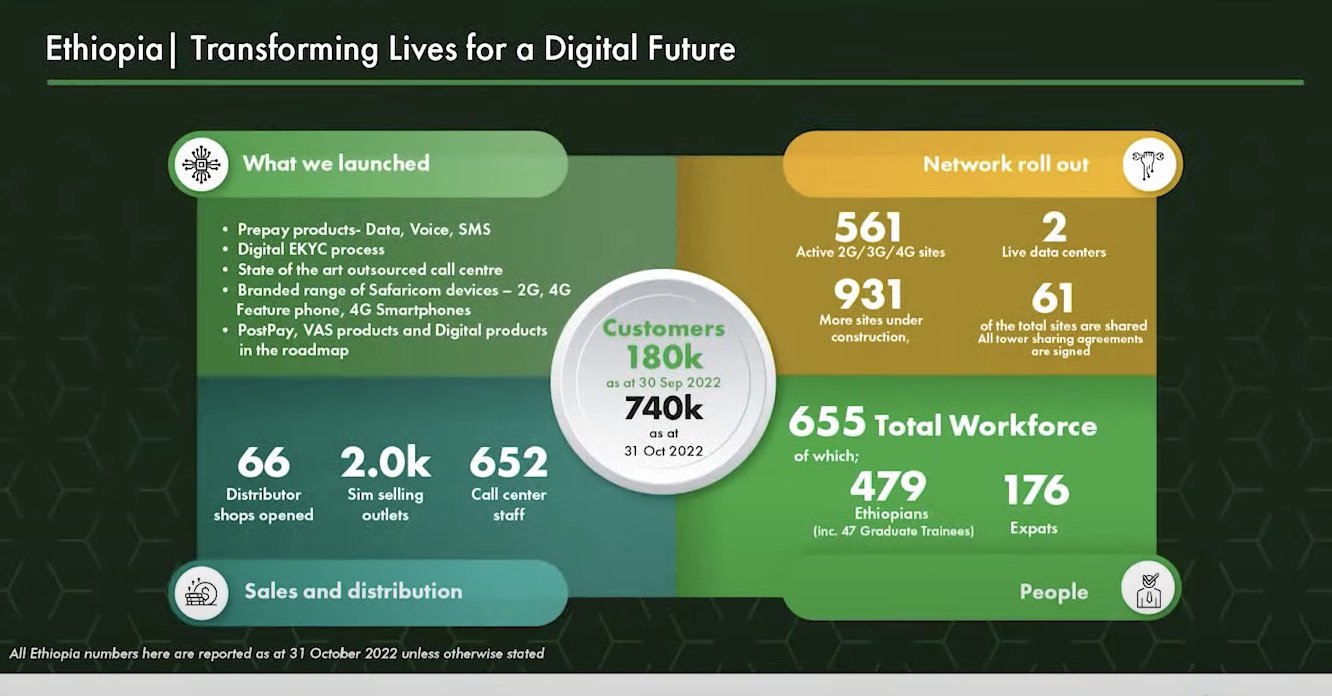 Telebirr
Ethio Telcom company also gave insight into its mobile money service, Telebirr, which was launched in May 2021.
This is said to have acquired 27.2 million customers and transacted a total of 166.1 billion birr ($3 billion) in the economy in six months, generating an income of 82.5 million birr ($1.5 million).
Telebirr, which is similar to Safaricom's MPESA, currently has 98, 800 agents and more than 25, 500 merchants. It is also now integrated with 15 banks, allowing Telebirr to make bank transfers and vice versa, Ethio said.
The mobile money service is also now integrated with 214 national institutions enabling seamless payments for Ethiopians.
"Additional 127 government services are being made to make their payment systems digital. This achievement is made possible due to network expansion and optimization works targeting to enhance customer experience and satisfaction; offering 50 new and 41 revamped, a total of 91 local and international products and services."
__________________________________
Follow us on Twitter for latest posts and updates
Join and interact with our Telegram community
__________________________________
__________________________________